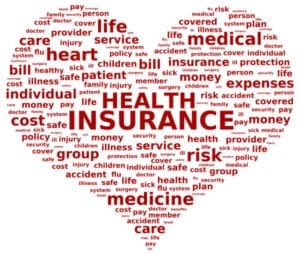 By Ruth C Modaffari, NYS Certified Application Counselor and Financial Advocate, Finger Lakes Community Health, an independent healthcare organization with eight health centers in the region.
It's that time of year again when you may be thinking about enrolling in health insurance. You're not the only one with a record 4.3 million New Yorkers enrolled in coverage and a record low state uninsured rate.
Consumer demand for coverage in New York remained strong this past year. New York had a positive message in 2018: a broad choice of plan options at a cost that, for many, was lower than in 2017. Marketplace enrollment increased by nearly 700,000 in 2017. New York's Essential Plan remained very popular, driving individual market enrollment in NY State of Health to far exceed expectations: the combined Qualified Health Plan and Essential Plan enrollment has reached nearly 1 million people. New York has seen a significant, corresponding reduction in the number of uninsured, from 10 percent in 2013 when the Marketplace opened to below 5 percent in 2017.
What's new? The Essential Plan
The Essential Plan rolled out last year and covers adults who are not eligible for Medicaid and have incomes up to 200% of Federal Poverty Level. This plan reduces both premium and out-of-pocket costs for these individuals by over $1,450 a year, saving New Yorkers an estimated $632 million a year.
Individuals enrolled in the Essential Plan are made up of two groups: 41% are individuals with lower incomes who would have been eligible for state-only Medicaid prior to 2016; and 59% are individuals with incomes over the Medicaid levels who would have been enrolled in a Qualified Health Plan (QHP) at a higher cost absent the Essential Plan.
What about health insurance for children?
As of January 31, 2018, 374,577 children enrolled in Child Health Plus (CHP) through the NY State of Health, including 28,972 enrollees (8%) who are new to the Marketplace during the 2018 Open Enrollment Period. Children up to age 19 in households with incomes up to 400% of the Federal Poverty Level (FPL) can enroll in subsidized insurance through Child Health Plus.
As of January 31, 2018, 2,965,863 individuals enrolled in Medicaid through NY State of Health. This includes 2,798,124 enrollees who renewed 2017 coverage and 167,739 enrollees who are new to the Marketplace during the 2018 Open Enrollment Period. Through the Affordable Care Act, New York expanded Medicaid eligibility levels to 138% of Federal Poverty Level (FPL) to all eligible adults.
Who can help you get health insurance? In-person assistors at Finger Lakes Community Health!
They continue to play an important role in enrolling New Yorkers into coverage. In 2018, 77% of individuals enrolled with the help of an in-person assistor, including navigators, certified application counselors, and licensed insurance brokers. In-person assistors are available in every county in New York, speak the languages of their communities, and are available to assist consumers at convenient times and locations. This is a free service.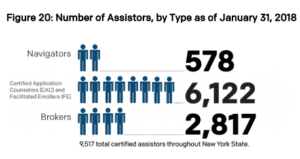 Finger Lakes Community Health has assisted New Yorkers on getting Health Insurance since the 1980's. The Financial Advocates at Finger Lakes Community Health will walk you through the health insurance enrollment process from start to finish. Insurance enrollment can be complicated and frustrating, why not let the Financial Advocates at Finger Lakes Community Health break down those barriers and assist you in the process. The best part is there is no cost for the Financial Advocates assistance — it is completely free. Our Financial Advocates follow our company motto by "Taking the time to care".
To speak with a Financial Advocate, call our Administrative Offices at (315) 531-9102. One of our staff will direct you to a Financial Advocate in your area and help you schedule an appointment to meet with them. Don't forget open enrollment is much shorter this year meaning space for appointments will be limited so call now and get your appointment!
SaveSave