For this physician assistant, helping patients live a healthy lifestyle is rewarding. Meet Jessica Sullivan.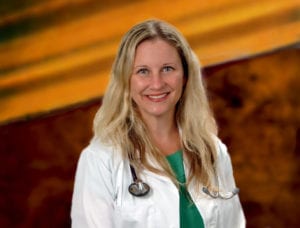 Jessica Sullivan, PA-C, Physician Assistant, Newark and Sodus Community Health
Jessica Sullivan, PA-C, practiced Emergency Medicine for the first eight years of her career. During that time, she realized the importance of helping people prevent illnesses and the need for Primary Care in our community. "I want to help prevent patients from going to the Emergency Department. I want them to live a healthy lifestyle and I can do that by practicing preventive medicine at both Newark and Sodus Community Health."
Enabling patients to feel comfortable when going to see a doctor is another priority for Jessica. Creating a warm and safe environment where patients can share their concerns is important to helping them stay healthy.  No matter the patient's situation, she wants to provide quality care — whether they can afford healthcare or not.
Jessica keeps herself busy outside of work with her two daughters. She loves to go horseback riding with them, in addition to reading, walking and spending lots of time outdoors.