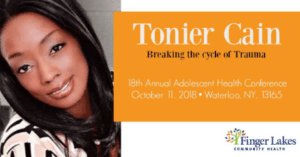 The 18th Annual Adolescent Health Conference will take place on October 11th, 2018 at the Quality Inn (formerly Holiday Inn) Waterloo, NY.
This professional conference is open to anyone who works with youth or adults. Hosted by Finger Lakes Community Health this conference will focus on drugs, trauma, racism, criminal justice and reproductive health.
This year we have a national Keynote, Tonier Cain. Tonier Cain will implore attendees with her experience by developing universal understanding of the nature of trauma. As a former crack addict, racking up 83 arrest, rapes and beatings were no stranger to her life growing up. Tonier was homeless, pregnant and incarcerated. Despite all of these adverse childhood experiences she overcame them to become an internationally recognized trauma care experience and trauma survivor. Tonier will discuss abuse she was subject to at the hand of her mother, drug addition, mental health, community trauma and leave you wanting more feeling inspired. This immersive experience is for primary care providers, educators, law enforcement agencies, health services, educators and community serving agencies.
After lunch we have breakout sessions by community agencies. Darcy Dreyer, from March of Dimes will discuss structural racism and implicit bias and their impact on health outcomes that drive the need for reproductive justice. Chelsea Snyder, from Family Counseling Services of the Finger Lakes will provide a workshop on Sparking Resiliency in LGBTQ Youth, including a youth panel. Jennie Knox, from Pregnancy Resource Center of the Valleys Inc. will discuss undeserved areas of reproductive health to include religious communities and how we can work to fix those gaps. Lynn Staack, from the Advocacy Center will discuss sexual harassment, abuse and assault and how we can work with high school students to provide resources to stop problematic behaviors, support students and work to prevent sexual violence. *Speakers outside of FLCH are not endorsed by Finger Lakes Community Health. They each represent their own programs.*
Register Here: https://tinyurl.com/HealthConference2018 Seats are limited. It is $45 to attend this full day training, which includes light brunch and lunch. Please share with others who may want to attend. Seating is limited. Registration closes 9/30/2018. For questions please contact Olivia at 315-787-8132.
This conference is hosted by Finger Lakes Community Health. Our sponsors are; Finger Lakes Community Health, March of Dimes, Wayne County Department of Health Children of Special Needs, Merck, Gilead Wegmans, Tops Markets and Seneca County Youth Bureau.
[/box]