"At Finger Lakes Community Health, I'm helping to serve my neighbors." Meet Daniel Dennis, Family Nurse Practitioner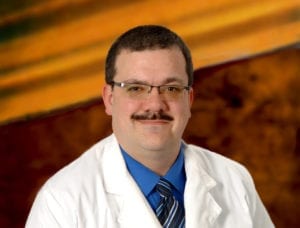 Daniel Dennis, Family Nurse Practitioner, Port Byron Community Health
Daniel Dennis began his career in medicine 20 years ago. Going into medicine was an easy decision for him as he always enjoyed working in the service industry. Daniel says, "I enjoy getting to know people and helping them live long, healthy lives."
Daniel's approach to patient care has always been patient centered. He focuses on finding the root of the problem and partnering with his patients to get better and stay well.
On his decision to join the Finger Lakes Community Health family, Daniel says that he likes helping his neighbors. "It feels good working with my community. I chose FLCH because of their commitment to the Finger Lakes community which has been my home for over 40 years."
When he's not helping his neighbors at work, Daniel enjoys spending time with his family and pets. He has a wife, three children and a German Shepherd. Together they enjoy sporting events and watching a good movie.